Article: Barn Wedding Venues in VT
Barn Wedding Venues in Vermont
Vermont is known for its variety of beautiful, classic, and rustic barn wedding venues. There are the classic red barns, rustic brown barns, and even white barns! Some Vermont barns have huge chandeliers, some have a loft/second story, and plenty have separate on site lodging for guests and getting ready. Some brand new Vermont barns have just started booking weddings and are eager to please, and other barns have a long history of beautiful weddings in picturesque locations. Many wedding barns allow outside catering, but some offer fantastic on site catering as well. While each barn is unique, one thing is for certain: wedding barns in Vermont are sure to have amazing views! You can't go wrong getting married at a Vermont barn in the Spring surrounded by luscious green grass and beautiful tall trees, in the Summer with views of the lake, in the Fall when everything turns a brilliant orange-red, or even in the Winter when you can arrive to your ceremony by a horse drawn sleigh. Below, I've included a list of some of the best barn wedding venues in VT that I've had the pleasure to photograph.

Skip to:
1824 House
2150 Main St, Waitsfield, VT 05673
Website

The 1824 House is a classic red barn wedding venue located in Waitsfield, Vermont, in beautiful Mad River Valley. Located on 14 acres, your family and guests can stay in one of the eight rooms of the house with the barn just steps away. The ceremony takes place atop a grassy knoll with panoramic views of the mountains. This intimate barn wedding venue is suited for smaller weddings if you want to keep everything strictly indoors, however a tent can easily be situated next to the barn for larger gatherings. A second story loft is a bonus at this venue: either as space for the band, or a separate area for lounging. It's also super fun for me as a photographer, because then I can take photos with an aerial perspective!
On site catering is provided by Occasions Catering, and they do a fantastic job of creating delicious meals both plated and buffet style. I've personally very much enjoyed their pot pies and taco bar! (Click here to see more images!)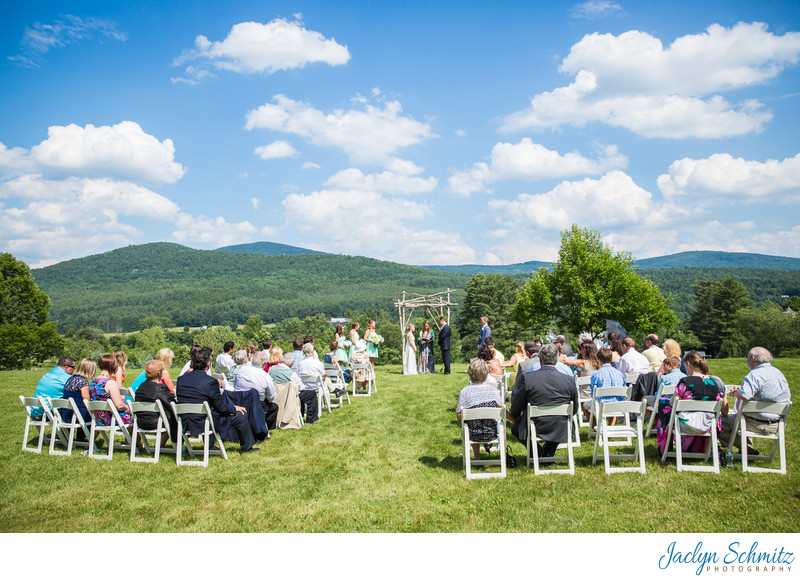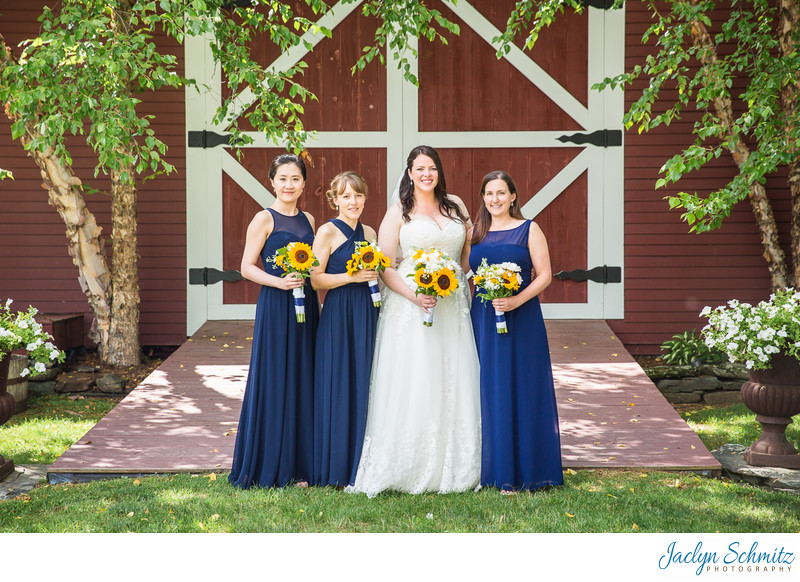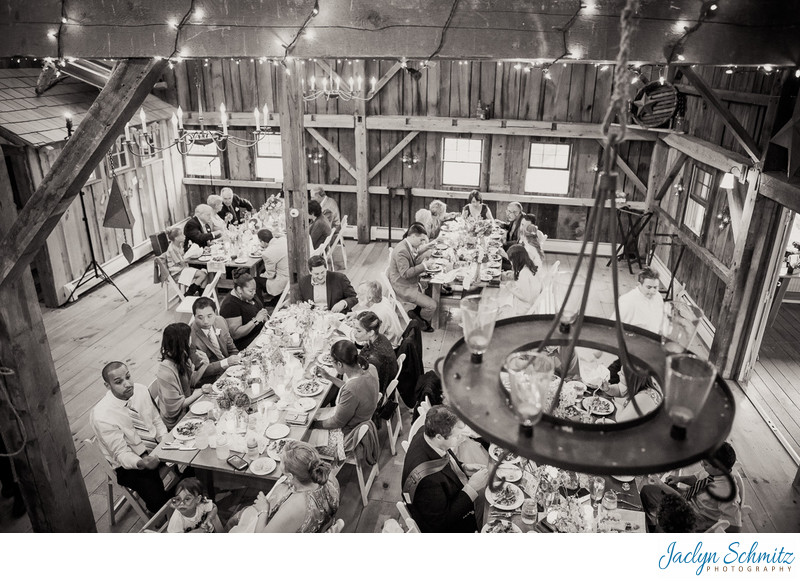 Inn at Mountain View Farm
3383 Darling Hill Rd, East Burke, VT 05832
Website

This is the type of barn you'd probably imagine if you heard the words "classic Vermont barn." It has apple red siding with white accents, a peaked roof, and is nestled among 440 acres of rolling green hills. Built in 1883, the Inn at Mountainview Farm is located in East Burke, featuring a historic dairy barn that is the one of the largest farm structures ever built in Vermont. Since then, many of the Farm's buildings have been updated to accommodate weddings, including a 14 room inn for guests, a spacious bridal suite, and a converted horse barn for the reception (can fit 200 guests). An amazing panoramic view of the Willoughby Gap serves as a backdrop for ceremonies. The Farm also operates an animal sanctuary, and if you're lucky you'll have a few visitors to take some portraits with.
Some of my favorite features of this property is the old school swing attached to a giant oak tree, the second story barn loft for some epic nighttime portraits, and the classic, traditional buildings on the property. Within 1 minute of walking you can have portraits in front of a beautiful old brick building, or on yellow and white porch steps, or in front of the classic red and white wood siding of a picturesque Vermont barn. (Click here to see more images!)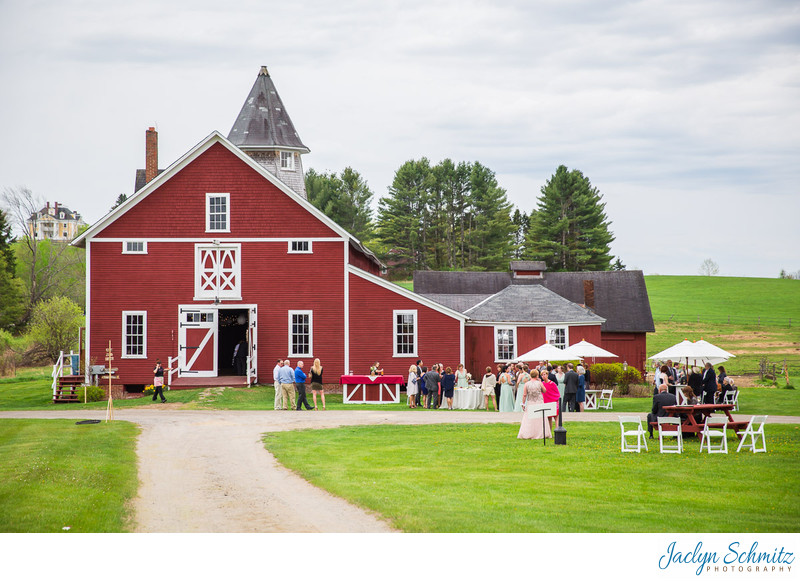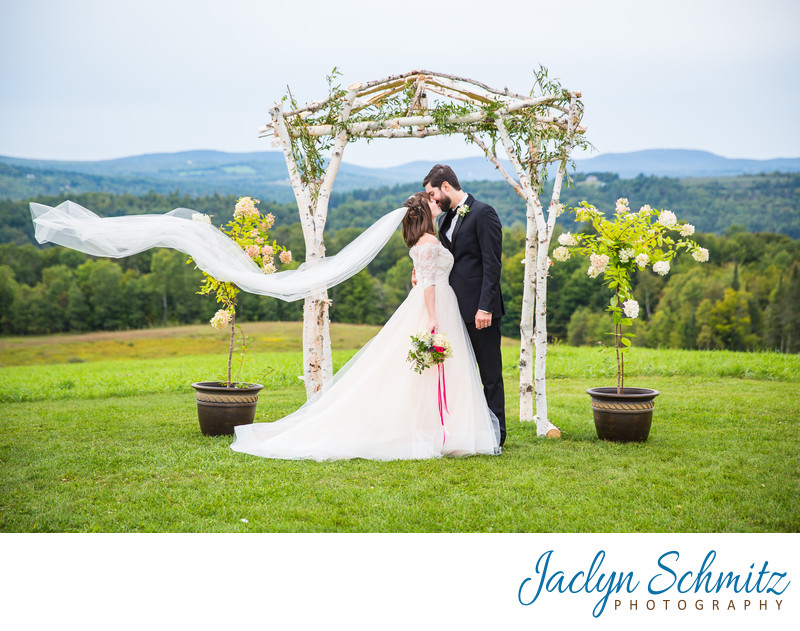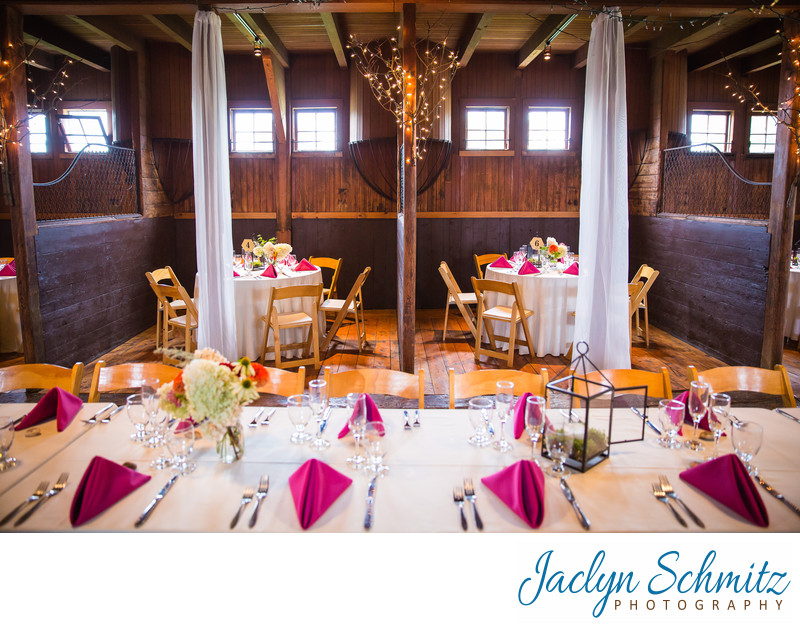 West Mountain Inn
144 West Mountain Inn Road, Arlington, VT 05250
Website

This 100 year old barn sits on 140 acres of gardens and forest, with views of the mountains and access to hiking trails and canoeing on the Battenkill River. While many Vermont barns are surrounded by wide open spaces, this property is special because it feels like the lush forest and mountains are giving you a hug. This is a secluded and private property surrounded by nature. The ceremony is outdoors with mountain views, and cocktail hour takes place on the lawn with flower gardens and short stone walls creating a charming perimeter--there's even a lily pond. Up to 19 guest rooms are available for weddings, a professional chef and kitchen is on site for catering, and the barn can fit 240 guests. Alpacas also call this inn home, and can be seen roaming the property.
I love this barn for its privacy. It has a magical charm sitting among gentle grassy hills and hidden from the outside world by hundred year old trees. Everything is peaceful and beautiful. This barn is different from most in that it has plenty of windows on all four sides, so you always have a view of the nature that surrounds you. (Click here to see more images!)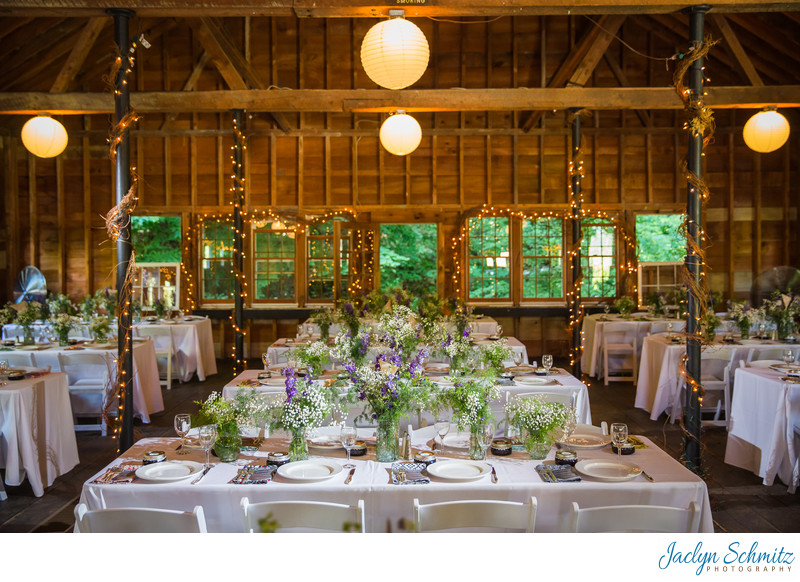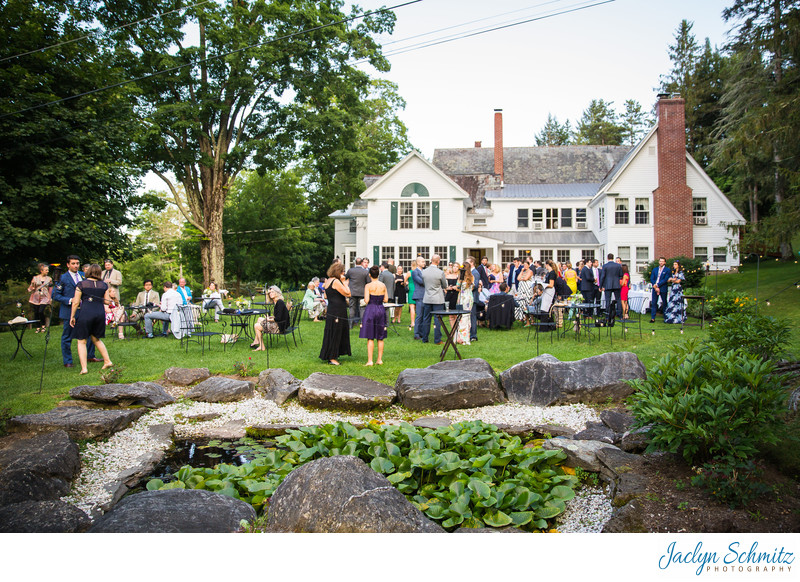 The Barn at Boyden Farm
44 VT-104, Cambridge, VT 05444
Website

When you book your wedding at The Barn at Boyden Farm, you get a barn situated within wide open spaces of perfectly manicured lawn, fields of tall grass, rows of corn, and a romantic vineyard with rows and rows of grape vines to get lost in. The ceremony location has wide, unobstructed views of the mountains. Inside the classic red barn you'll be in awe of the tall wood beams supporting vaulted ceilings and large rustic chandeliers and lanterns cascading soft, golden light throughout the venue. Kids (and their parents) at your wedding will appreciate a full blown playground tucked away outside the barn. And one of the biggest perks when you book this venue is you have 2 additional days included, so you can set up early on Friday, get married Saturday, and clear out on Sunday; plus then you also have a rehearsal dinner location. This 4000sqft barn can accommodate 150 guests and includes beautiful wooden tables and chairs.
This wedding venue has so many portrait opportunities! I was spoiled by Katherine and Craig's wedding, where within a 5 min walk we had five different backdrops for photos. If you like a farm industrial vibe to go along with the vegetation, there's 2 amazing tall, navy blue silos next to the barn. Moving to the wedding reception, this venue is one of the most beautifully lit barns I've photographed in. The barn layout is well organized and guests sit in unique 'nooks' on the perimeter of the room, so everyone has a view of what is happening. (Click here to see more images!)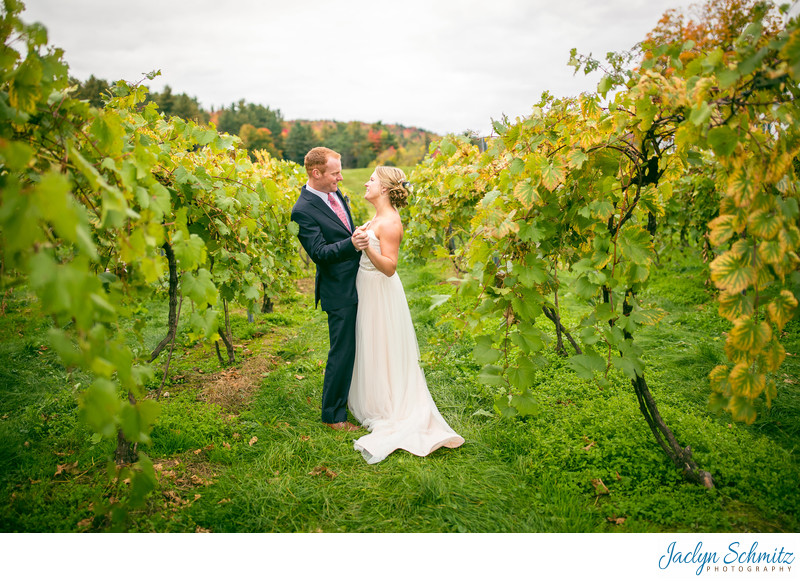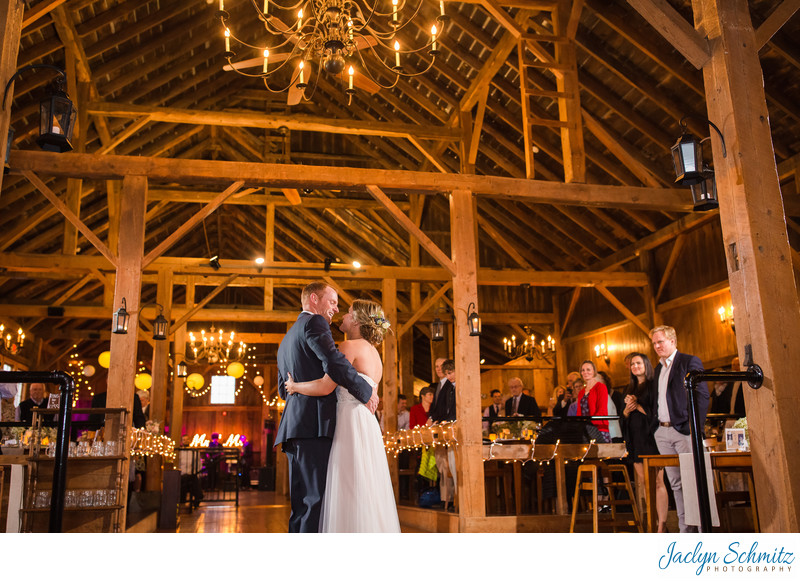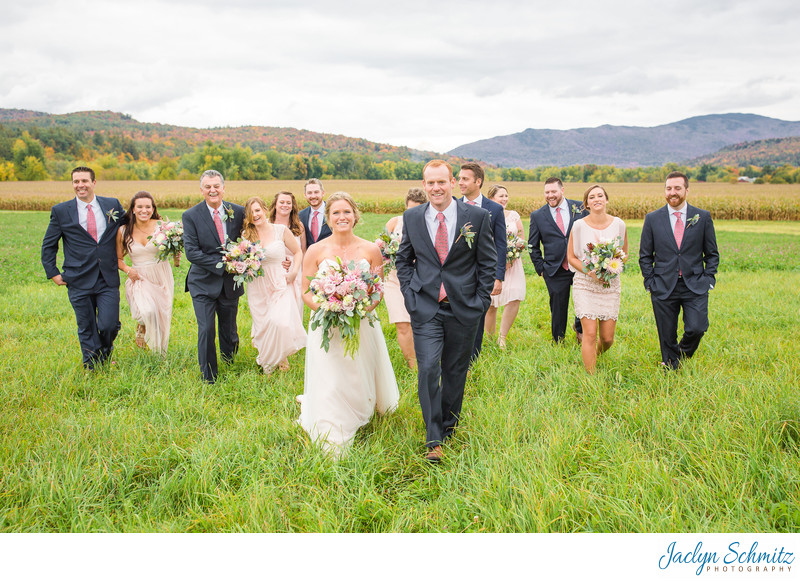 The Mansfield Barn
3 Irish Farm Rd, Jericho, VT 05465
Website
The Mansfield Barn is a newly-renovated wedding barn (originally built in the 1840s!) located less than 30 mins from Burlington, making it a very convenient location for out of town visitors. With views of Mount Mansfield, of course, it isn't hard to figure where the barn gets its namesake. Your ceremony and portraits will have a beautiful floral backdrop from the lush growth of multicolored wildflowers surrounding the property. Another classic red wedding barn, this venue includes tables and chairs for up to 200 guests. An all-wood bar is built in to one side of the barn, making it not only convenient for your guests, but also a rustic addition to your wedding design. This barn is a perfect example that minimal lighting decor can still make a dramatic impact. I absolutely love the strands and strands of white Christmas lights that wrap around the tall wooden rafter beams. They add beautiful bokeh (aka "those out of focus circle things") to the background of your first dance. (Click here to see more images!)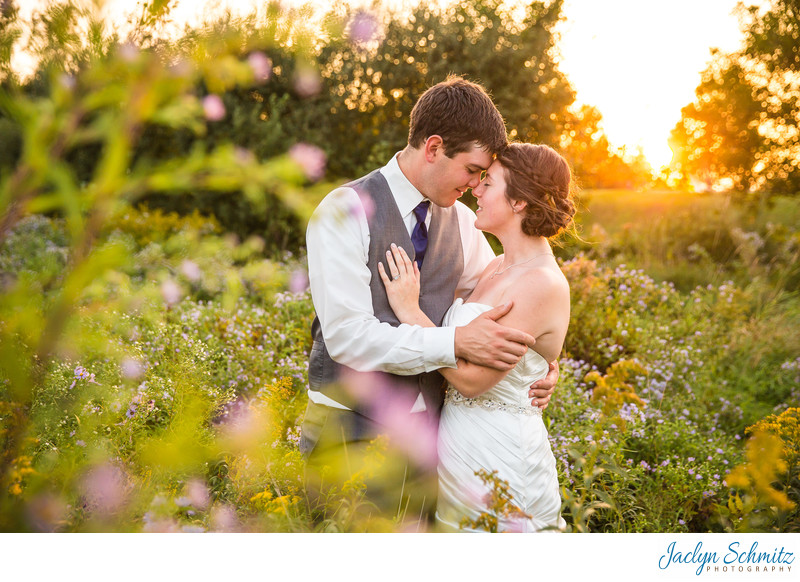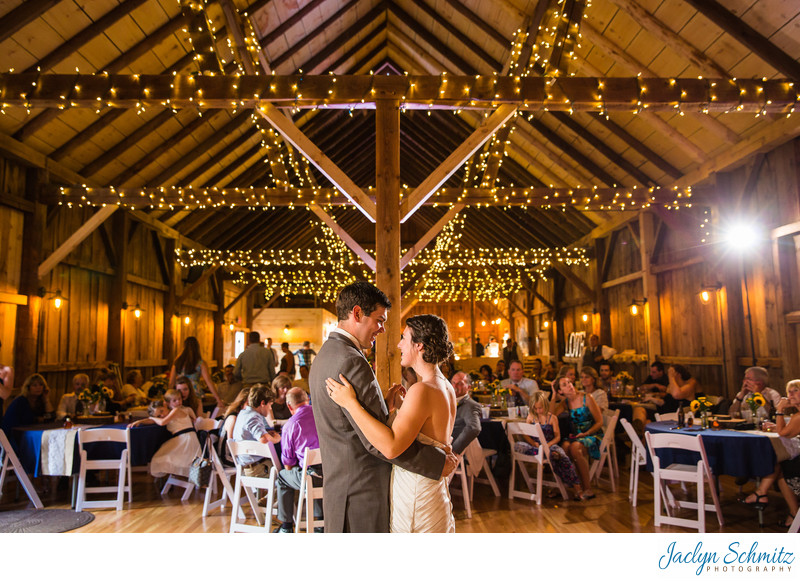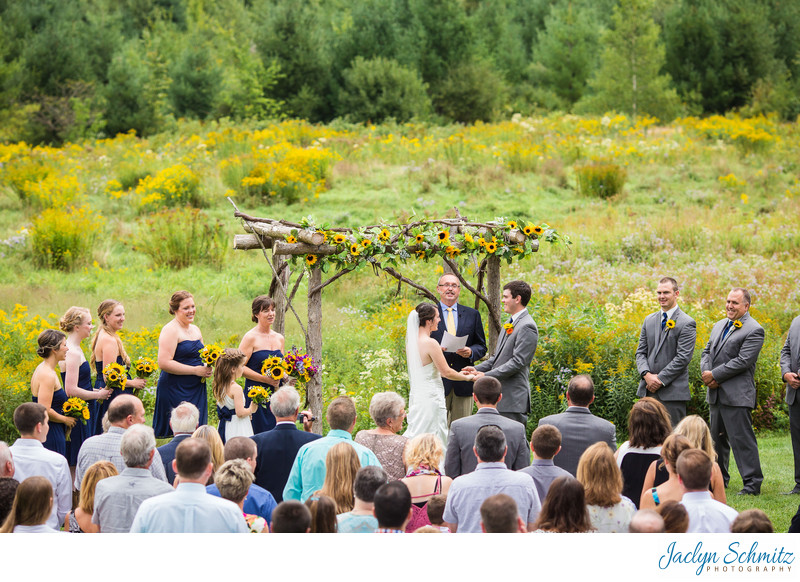 The Barn at Smuggler's Notch
55 Stebbins Rd, Jeffersonville, VT 05464
Website
Looking for a modern, sophisticated, brand-new wedding barn in Vermont? The Barn at Smuggler's Notch is it. 2017 will be its second year hosting weddings, and I had the pleasure to photograph the wedding of one of the men who constructed it. Since this barn was built from scratch, the owners had the fortune to design a barn with weddings and events specifically in mind. One of the biggest features that makes this barn stand out is the amount of natural light streaming through the many windows and bouncing off the white shiplap walls and blonde wood floors. Large modern chandeliers hang from the cathedral ceiling. A white staircase leads up to the getting ready room, which has its own crystal chandelier, a huge mirror, and an upscale bathroom with marble counters and a glass rain water shower.
The designers really knew what they were doing when it came to architectural interest--I love how the door to the getting room can be left open, so that you see the beautiful crystal chandelier from the dance floor (and the angle is just right where you don't see any of the general "stuff" that will be left in the room). Outside, there are views for days with Mt. Mansfield, Smugglers' Notch and the peaks of the Green Mountains all visible. A large covered patio is a nice addition to the barn for lounging and cocktail tables, and guests can enjoy some frisbee golf on the lawn. A separate large bar area off the main dance floor can easily fit a band (or in my couple's case, a canoe and a band!). To round off all the modern amenities, this is a four season barn, meaning it has heating and air conditioning! (Click here to see more images!)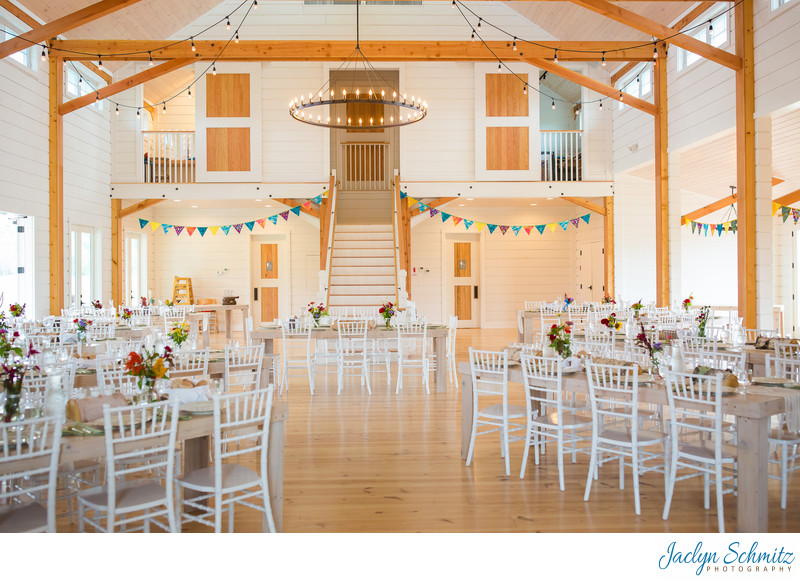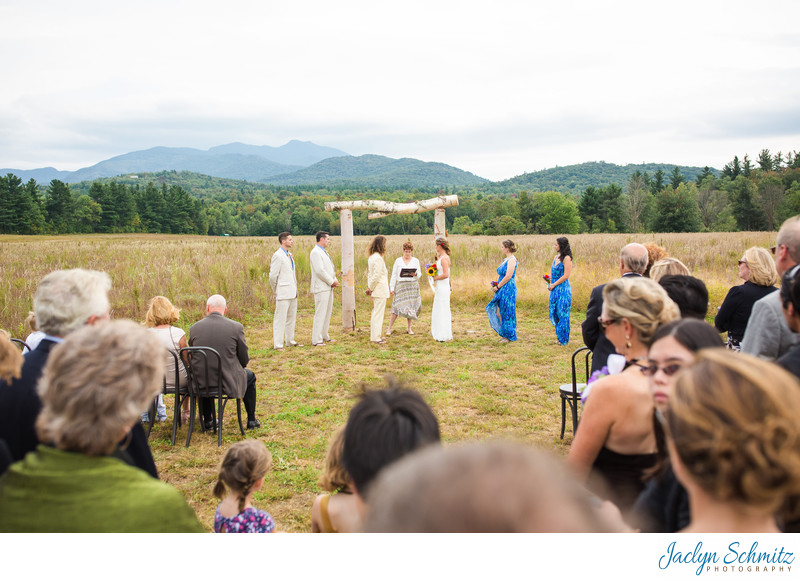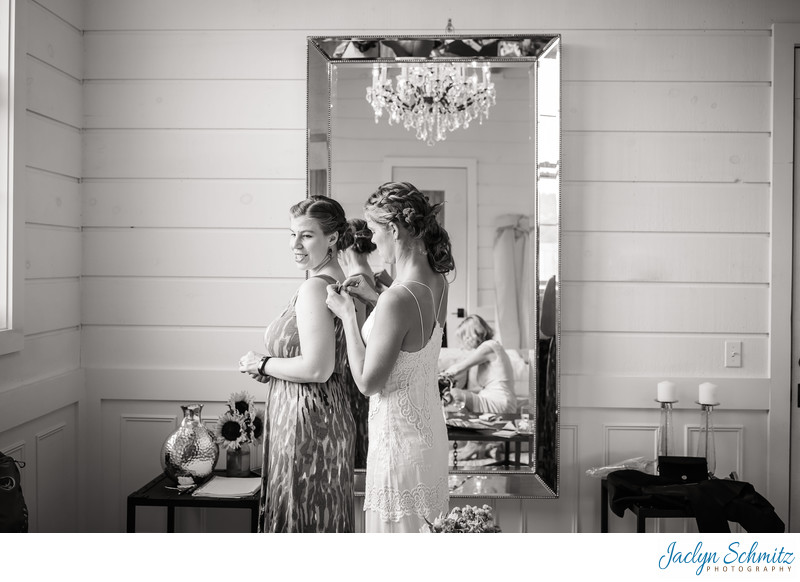 The Mountain Top Inn and Resort
195 Mountain Top Rd, Chittenden, VT 05737
Website
If you're looking for a cross between resort lodging and a barn reception, The Mountain Top Inn is one of the most popular choices. There's no need to worry about where your traveling guests will stay: this resort has 32 rooms in the lodge, 4 pet-friendly guest cabins, and 23 private guest houses. There are multiple reception sites, but I'm going to focus on the barn. Steps away from the resort, the modern two-story four season barn can easily fit very large weddings. It has a convenient solution for rain woes, in that the loft in the barn is large enough to host the ceremony, so there is no need to rearrange the reception tables. Ceremony options include the lodge's stone patio, or a grassy hill above it, and both locations have--wait for it--panoramic views of the lake and mountains (who woulda guessed?!). There is a third ceremony location down near the lake as well which is suitable for smaller weddings.

So far, I've photographed weddings here during the Fall and Winter season, with a wedding in the Summer coming up! I've almost hit a four season barn bingo :D The horse drawn sleigh is a huge wow factor for winter weddings, with guests ooohing and clapping when they saw the brides in the distance. (Click here to see more images!)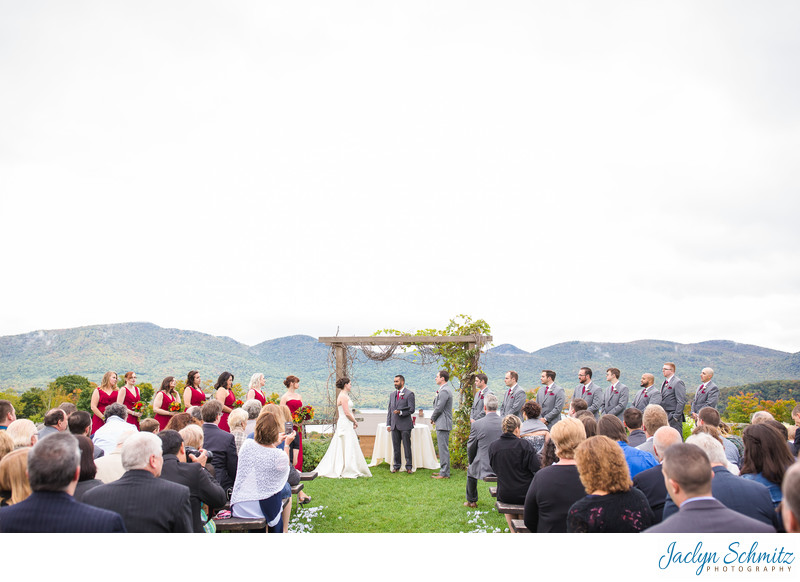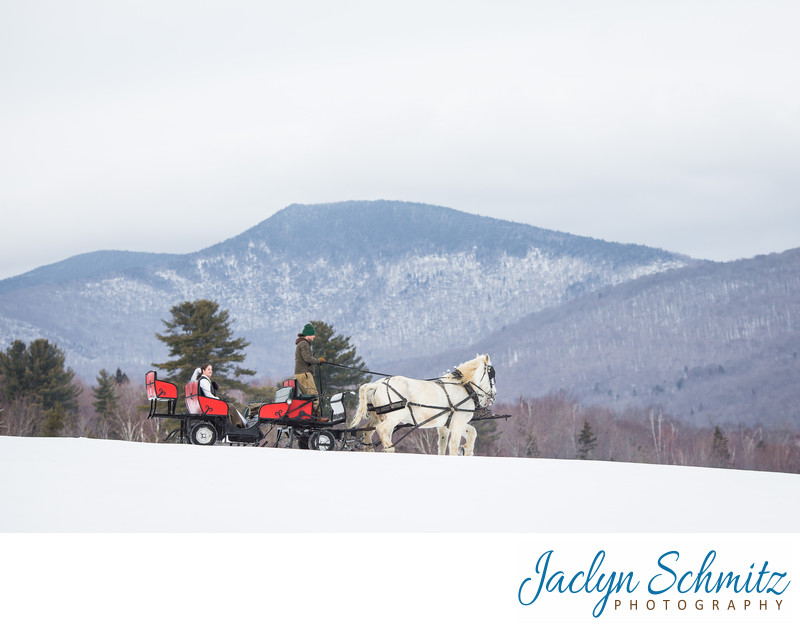 Franklin County Field Days
Airport Rd. Highgate, VT 05488
Website

This event center has multiple large barns on the property and is a complete blank slate. If you are planning on a large wedding, the affordable rate of Franklin County Field Days makes it an attractive option. You also can have an entire week to set up, which is awesome because these simple barns really clean up nicely with a little decorative touch. The one downside is unlike other Vermont barns, this location does not have mountain or lake views. The grounds are normally used for local agricultural fairs, so there's a lot of open space, and the landscaping is kept very simple with trimmed grass and a small garden. However don't despair if you think that means boring portraits! There's a lot of fun ways to play with the many barns on the property, and if you really need some greenery, there's a gorgeous spot just 8 mins down the road at the Swanton Historical Society (make sure you check with them before showing up).

I've photographed two weddings here, so in the expanded gallery you'll be able to see different ways to utilize the property. One couple had their wedding outside, and the other inside. Because there are multiple barns, you won't need to worry about renting a tent at the last minute or interfering with the reception space by using it as a last minute ceremony location, which is really nice. I love how the reception barn has multiple sliding doors, so there is no bottle neck to get outside and enjoy the open air (or some corn hole or frisbee golf!). And there is sooo much space, you can easily fit enough tables for 150+, have a huge dance floor with band, and have separate photobooth, dessert table, catering, bar, sign in/gift table, and lounge spaces. (Click here to see more images!)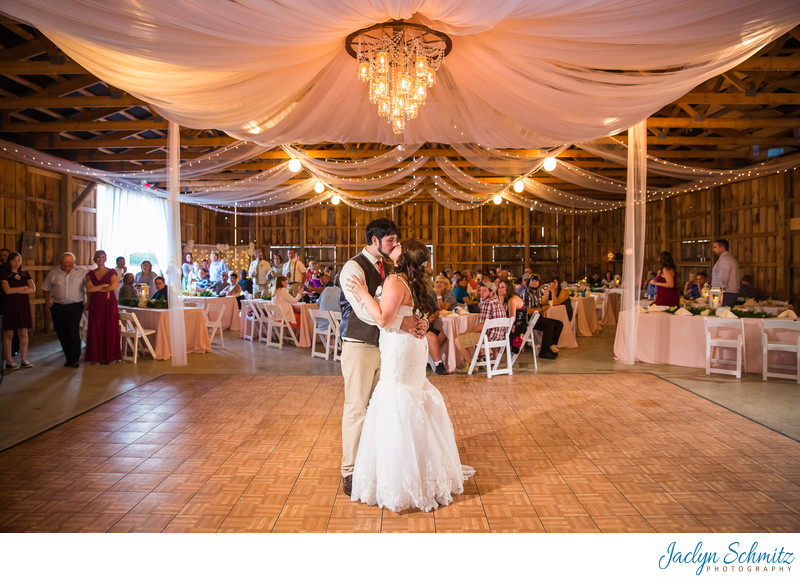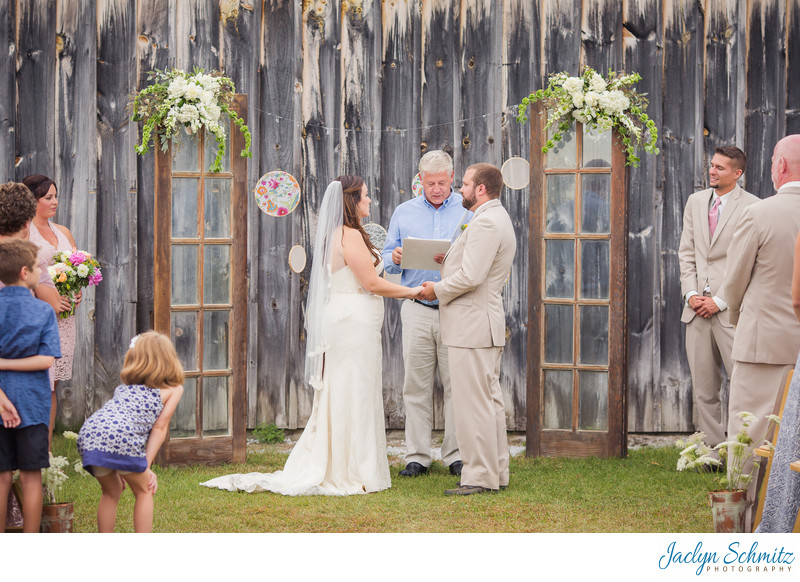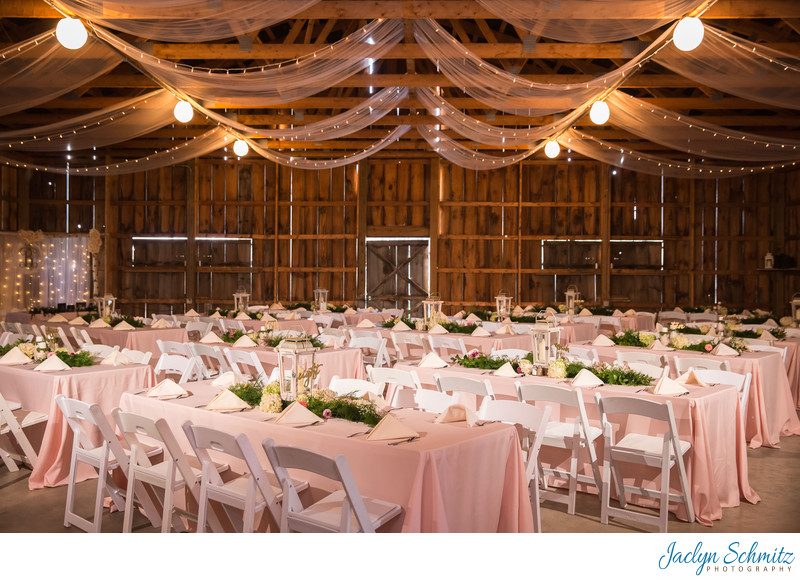 **More barn wedding venues coming soon!**

Article: Barn Wedding Venues in VT